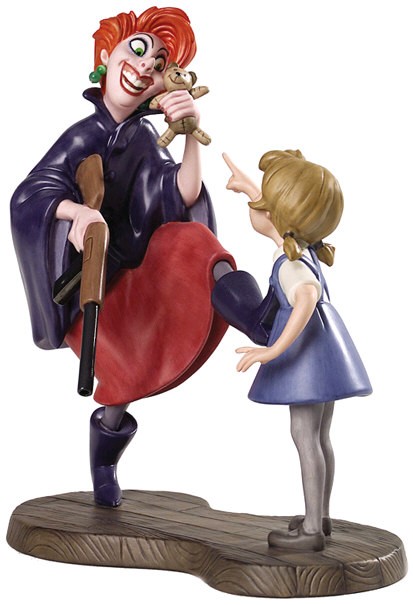 Tweet

WDCC The Rescuers Medusa And Penny Teddy Goes With Me Dear
Status: Only 1 Available | Condition:New | Edition:The Rescuers | Dim:8 1/4 | WDCC | 1230088
Price:$425.00
Availability: Yes as of Date: May 28, 2020
WDCC Disney Classics The Rescuers Medusa And Penny Teddy Goes With Me Dear
is eligible for layaway in 3 equal payments of $141.67 over 60 days.
5/28/2020 $141.67 1st payment
6/27/2020 $141.67 2nd payment
7/27/2020 $141.67 3rd & final payment
payments are automatically deducted from your credit card.
As an option you may also pay for WDCC Disney Classics The Rescuers Medusa And Penny Teddy Goes With Me Dear using Paypal Checkout. Please note that all orders must be delivered to a physical address verified by Paypal. This PayPal option is not applicable to orders to be delivered to Military or International orders.
Product Details
The Rescuers Medusa and Penny Teddy Goes with Me Dear
Plussing:
Legs: Pewter.
Earrings: Bead.
Gun: Resin.
Teddy: Swarovski crystal Devil's Eye inside (the Swarovski crystal is visible out of the back of Teddy).
Particulars:
Numbered Limited Edition (NLE) of 1,977.
Each sculpture comes with a signature card signed by Andreas Deja.
Product Details
The Rescue Aid Society, an international organization of mice with headquarters in the basement of the United Nations building, receives a plea for help from a little orphan girl named Penny. Penny has been kidnapped by an evil woman, Madame Medusa, who intends to use her to retrieve a fabulous diamond, the Devil's Eye, from a pirate cave. The case is taken by lovely Bianca and Rescue Aid Society custodian Bernard, who becomes her shy assistant. Together, after avoiding two brutish alligators, enlisting the help of the local swamp folk, and turning Medusa and her henchman Snoops against themselves, the mice rescue Penny and the diamond.