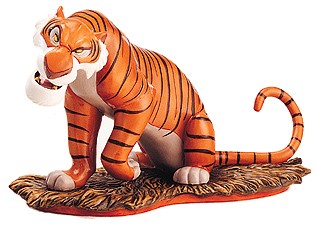 Tweet

WDCC The Jungle Book Shere Khan Every One Runs From Shere Khan (event Sculpture)
Status: Only 1 Available | Condition:New | Edition:The Jungle Book | Dim:4.67 inches | WDCC | 453054497
Retail: $275.00 Your Price: $233.75
At 15% Off You SAVE $41.25
There is 1 Available of The Jungle Book Shere Khan Every One Runs From Shere Khan (event Sculpture) at this price.
Sale ends on 12/12/2022 11:59:00 PM.
Product Details
Everyone Runs From Shere Khan (1998 Spring Event Sculpture) Closed Edition 4/98
(NOTE: Shere Khan did not receive the special '30th Anniversary' Backstamp.

Hand-numbered.
Spring 1998 Special Event piece available 02/27/98 to 03/29/98.
Product Details
Raised by a wolf pack, all 10-year-old Mowgli wants is to stay in the jungle. But Shere Khan, the tiger who hates men, has sworn he will kill the boy. So Mowgli's friends Bagheera, the panther, must take this man-cub to the man-village before it's too late. Along the way, Mowgli searches for a place to belong, adopting the life of an elephant, a bear, a monkey, even a vulture. Unfortunately, the naive Mowgli's friends often prove more dangerous than sincere. Angry at Bagheera and his adopted "papa bear," Baloo, for trying to take him from the jungle, Mowgli soon finds out that friends are the ones who tell you what you need to hear, even if it's not what you want to hear.