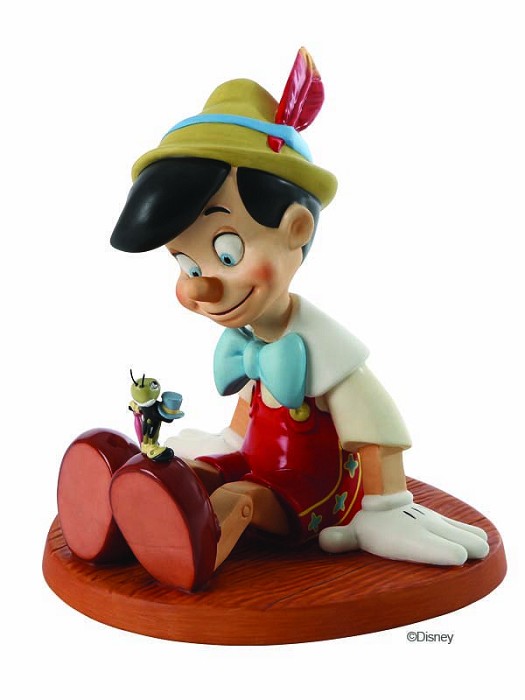 Tweet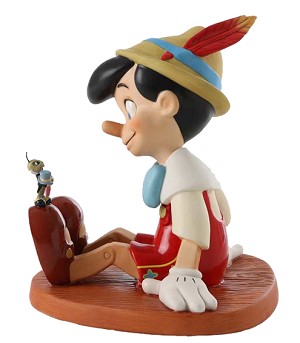 WDCC Pinocchio And Jiminy Cricket Anytime You Need Me, You Know, Just Whistle!
Status: | Condition:New | Edition:Pinocchio | Dim:6 | WDCC | 4019507
Price:$0.00
Currently Out Of Stock
Product Details
Pinocchio and Jiminy Cricket Anytime you need me, you know, just whistle!
Knowing the star of Pinocchio had to be appealing, Walt Disney directed his artists to "win the audience to the little guy." The lovable living puppet was enhanced with vocal artist Dickie Jones, who Walt said, had a "typical nice boy�`s voice." Walt also created a cricket sidekick, but reported, "At first we made Jiminy sort of a pompous fellow " kind of a windbag," but voice artist Cliff Edwards" performance had �`so much life and fun in it that we altered the character to conform to the voice. Thus Jiminy comes to the screen... lively and full of quips."Jiminy (the cricket-sized sculpture is bronze) wants the little woodenhead to call on him any time, so as the little conscience cheerfully chirps, all Pinocchio needs to do is give a little whistle. 4019507 Pinocchio and Jiminy Cricket: "Anytime you need me, you know, just whistle!" Numbered Limited Edition 750 Plussing: Bronze Jiminy Cricket Miniature.
Product Details
Pinocchio: Although Pinocchio promises the Blue Fairy he'll be good, temptation can be a powerful force for any boy -- even one made of wood. Curious and naive, Geppetto's "little woodenhead" has got a solid thirst for adventure but a shaky sense of what's right and wrong, despite the persistent advice of his "official" conscience, Jiminy Cricket. An easy mark for the practiced con-men of the world at large, Pinocchio must beat temptation and learn to become brave, truthful, and, most of all, unselfish. Only when he proves himself deserving of the Blue Fairy's trust, and his father's love, will he become a real boy.

Jiminy: Jiminy may be small, but he's far from your average cricket. He can turn an umbrella into a parachute and looks great in a top hat and spats, and he carries a mean tune, as well as a nearly inexhaustible supply of home-brewed common sense. It's no wonder he is chosen by the Blue Fairy to be Pinocchio's "official" conscience. Unfortunately for Jiminy, it's only after he blushingly agrees to his appointment as "Lord High Keeper of the Knowledge of Right and Wrong, Counselor in Moments of Temptation, and Guide along the Straight and Narrow Path," that he realizes what a job he's gotten himself into. Like any conscience, Jiminy is occasionally late on the job, and frequently ignored even when he is around. Fortunately, Jiminy is nothing if not persistent, and he eventually succeeds in steering Pinocchio back to the right path.