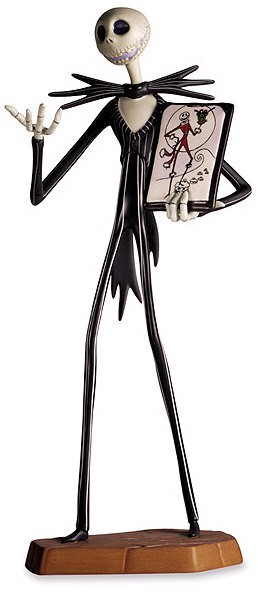 Tweet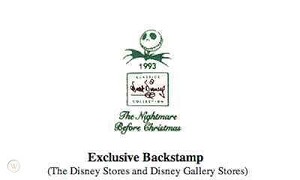 WDCC Nightmare Before Christmas Jack Skellington With Special Backstamp
Status: Only 1 Available | Condition:New | Edition:The Nightmare Before Christmas | Dim:9 | WDCC | 1204384S
Retail: $525.00 Your Price: $472.50
At 10% Off You SAVE $52.50
There is 1 Available of Nightmare Before Christmas Jack Skellington With Special Backstamp at this price.
Sale ends on 12/12/2022 11:59:00 PM.
Product Details
Nightmare Before Christmas Jack Skellington Jack Skellington.With Special Backstamp
Nightmare Before Christmas Jack Skellington Jack - "My Christmas is Filled With Laughter and Joy".
Plussing:
Legs: Pewter.
Hands: Bronze.
The Disney Store version, was only sold as a set (not including the opening title) and was limited to an edition size of 600 sets. The special backstamped set was only available at participating locations of the Disney Store and The Walt Disney Gallery, beginning September 7, 2000 as part of their Art and Collectibles Premier Event. The special backstamp design (pictured below) features Jack Skellington's head along with the year of the feature film.
Retired 10/06
Product Details
The Nightmare Before Christmas, often promoted as Tim Burton's The Nightmare Before Christmas, is a 1993 American stop motion musical fantasy horror film produced/co-written by Tim Burton and directed by Henry Selick. It tells the story of Jack Skellington, a being from "Halloween Town" who opens a portal to "Christmas Town" and decides to celebrate the holiday. Danny Elfman wrote the film score and provided the singing voice of Jack, as well as other minor characters. The remaining principal voice cast includes Chris Sarandon, Catherine O'Hara, William Hickey, Ken Page and Glenn Shadix. The Nightmare Before Christmas originated in a poem written by Tim Burton in 1982, while he was working as a Disney animator. With the success of Vincent in the same year, Disney started to consider developing The Nightmare Before Christmas as either a short film or 30-minute television special. Over the years, Burton's thoughts regularly returned to the project, and in 1990, Burton and Disney made a development deal. Production started in July 1991 in San Francisco. Walt Disney Pictures decided to release the film under their Touchstone Pictures banner because they thought the film would be "too dark and scary for kids".[2] The Nightmare Before Christmas was met with critical and financial success. Disney has reissued the film annually under their Disney Digital 3-D format since 2006, being the first stop-motion animated feature to be entirely converted to 3-D.