Tweet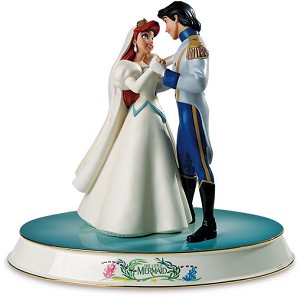 WDCC The Little Mermaid Base
Status: Only 1 Available | Condition:New | Edition:The Little Mermaid | Dim: | WDCC | 1235193
Price:$395.00
Availability: Yes as of Date: November 29, 2021
WDCC Disney Classics The Little Mermaid Base
is eligible for layaway in 3 equal payments of $131.67 over 60 days.
11/29/2021 $131.67 1st payment
12/29/2021 $131.67 2nd payment
1/28/2022 $131.67 3rd & final payment
payments are automatically deducted from your credit card.
Product Details
Little Mermaid Base Figurine not included.
Elegantly embossed with each film's title and icons from the films themselves, these new bases enhance the sculpted movement and enchanting romance that are such a part of the Walt Disney Classics Collection's Dancing Couples.
Product Details
Tawny-haired mermaid Ariel was one of Disney's most immediately popular animated heroines. Ariel is a girl in the process of becoming an attractive woman. One of her attractive qualities is that she is very definite about what she is doing and very confident about her own ability to succeed. Of course, a good deal of that confidence is ill-placed, as she is just a teenager. Although she is warned by her father, King Triton, that humans are dangerous, Ariel stubbornly believes otherwise and has an insatiable curiosity about them. She explores human artifacts (sunken ships, etc.) and is constantly going into forbidden territory: the surface. This, of course, leads her to love ... and trouble.