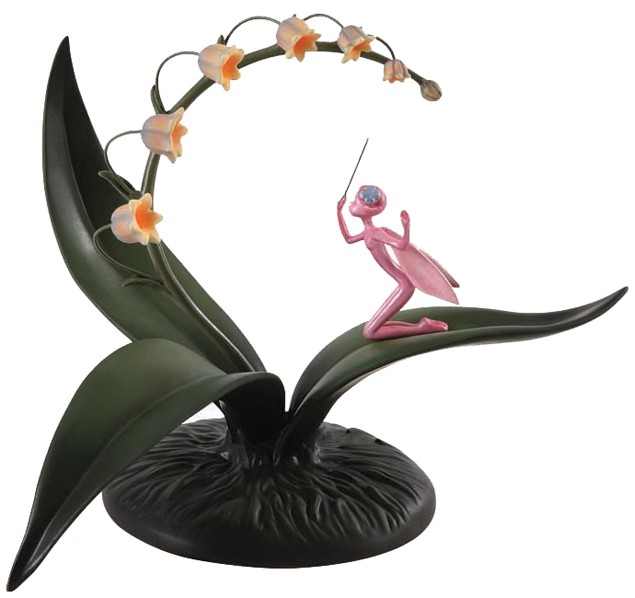 Tweet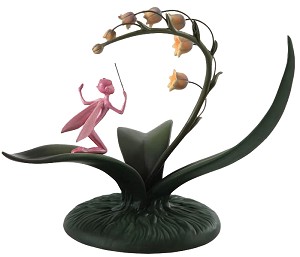 WDCC Fantasia Lily Of The Valley Fairy The Gentle Glow Of A Luminous Lily
Status: | Condition:New | Edition:Fantasia | Dim:height: 5 inches | WDCC | 4019508
Price:$0.00
Currently Out Of Stock
Product Details
Lily of the Valley Fairy The Gentle Glow of a Luminous Lily sculpted by Kent Melton is a Numbered Limited Edition (NLE) of 500.
As Walt Disney and his artists created Fantasia's ethereal Fairies, director Sam Armstrong suggested that The Fairies can dart around like a hummingbird, then stay poised, still in the air with their wings humming; then dart again. Even when still, as in this sculpted portrayal of the Lily of the Valley Fairy, the dainty sprite conveys a spirit of motion. The fantastical Fairy motif is one of the most fanciful of the many entrancing elements that make up �he Nutcracker Suite for, while many of the characters are nature's own flora and fauna, the gossamer fairies are beings of pure fantasy. Richly plussed with bronze details including the flower stem and the glistening Fairy herself, this exquisite sculpture embodies all the enchantment of Walt Disney's animated masterpiece and makes the ideal complement for the other dazzling Fantasia Fairy pieces from the Walt Disney Classics Collection.
Product Details
One of the most highly regarded of the Disney classics, a symphonic concert with Leopold Stokowski and the Philadelphia Orchestra, embellished by Disney animation. The film includes eight sequences: "Toccata and Fugue in D Minor" (Bach), "The Nutcracker Suite" (Tchaikowsky), "The Sorcerer's Apprentice" (Dukas), "Rite of Spring" (Stravinski), "Pastoral" (Beethoven), "Dance of the Hours" (Ponchielli), "Night on Bald Mountain" (Mussorgsky), and "Ave Maria" (Schubert).

Chernabog: From his perch high upon Bald Mountain, Chernabog unfolds his wings and casts his dark shadow over the sleeping village. Born of nightmare and myth, he conjures writhing harpies and fiends, and calls the spirits of the restless dead to perform at his beckoning. His minions live and die at his whim, feeding the fire with their bones when he's wearied of their devotion. Chernabog is king of the darkness and no human dares walk the night while he's abroad! His evil power stands against anything -- except the clean light of the sacred dawn. When the sweet notes of morning break over the mountain, the monster must crawl back into hiding, for against the purity of the day, his evil is helpless. But Chernabog is never gone, he merely waits for the coming of another night, and the chance to continue the eternal battle between light and dark.