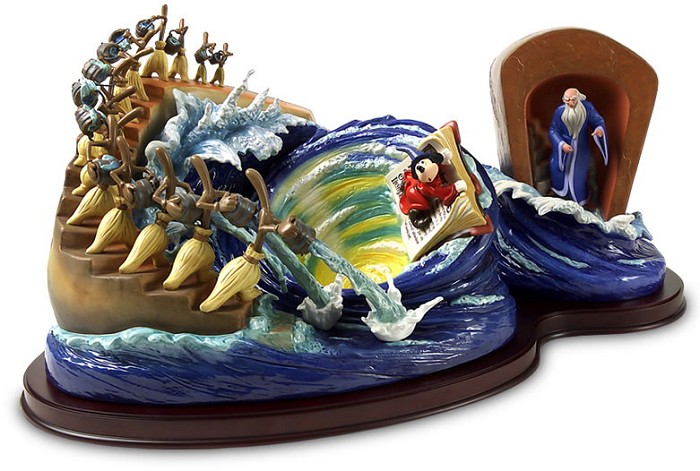 Tweet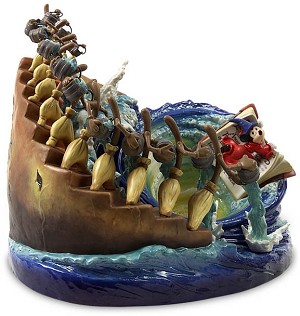 WDCC Fantasia Sorcerer Mickey Yen Sid Brooms Magical Maelstrom
Status: | Condition:New | Edition:Fantasia | Dim:10 inches | WDCC | 4004520
Price:$0.00
Currently Out Of Stock
Product Details
Fantasia Sorcerer Mickey Yen Sid Brooms Magical Maelstrom
Artist: Ruben Procopio.
Introduced: 2006.
Sizes: height Mickey & Brooms: 10-3/4", Plus Base 11-3/4" height Yen-Sid: 10"
Sold as a set.
Each of the brooms was individually sculpted (and not replicated in production) and the sculpture shows an animation progression from this classic film sequence.
If you freeze a moment of the film, you will see all the brooms in unison in the same pose pitching the water from the pails. That's much easier to produce of course since you can replicate the same broom sculpture in different sizes for the sculpture.
n this sculpture however, it was chosen for the first time in WDCC to animate a progression of a film sequence showing the brooms from the moment when they start to pitch the water from the pails to the point where water is pouring all the way out. This tells the animated story of the brooms action sequence. So, each broom is sculpted individually in the progression taking many more days to sculpt and produce),but what one might expect from a Signature Series release!
The Fantasia Signature Series also comes with wooden presentation base (not shown)and a signature card signed by sculptor Ruben Procopio.
Matched Numbered Limited Edition (NLE) set of 1,000.
Product Details
One of the most highly regarded of the Disney classics, a symphonic concert with Leopold Stokowski and the Philadelphia Orchestra, embellished by Disney animation. The film includes eight sequences: "Toccata and Fugue in D Minor" (Bach), "The Nutcracker Suite" (Tchaikowsky), "The Sorcerer's Apprentice" (Dukas), "Rite of Spring" (Stravinski), "Pastoral" (Beethoven), "Dance of the Hours" (Ponchielli), "Night on Bald Mountain" (Mussorgsky), and "Ave Maria" (Schubert).

Chernabog: From his perch high upon Bald Mountain, Chernabog unfolds his wings and casts his dark shadow over the sleeping village. Born of nightmare and myth, he conjures writhing harpies and fiends, and calls the spirits of the restless dead to perform at his beckoning. His minions live and die at his whim, feeding the fire with their bones when he's wearied of their devotion. Chernabog is king of the darkness and no human dares walk the night while he's abroad! His evil power stands against anything -- except the clean light of the sacred dawn. When the sweet notes of morning break over the mountain, the monster must crawl back into hiding, for against the purity of the day, his evil is helpless. But Chernabog is never gone, he merely waits for the coming of another night, and the chance to continue the eternal battle between light and dark.